Abbiamo portato sulla tavola del nostro locale antiche e saporite ricette della tradizione. La nostra cucina propone piatti tipici della zona, semplici nel gusto e ricchi della storia contadina che racchiudono, piacevolmente influenzati dalla vicina cucina ligure: salame nostrano, panissa, focacce e antipasti caldi, agnolotti al sugo o nel vino, minestrone genovese, tagliatelle, cima, trippa, stocafisso e ceci. Formaggi della zona accompagnati dal miele di Gavazzana, i dolci fatti in casa con i migliori vini del posto vi delizieranno per la sera. Il men¨ potrÓ variare a secondo della disponibilitÓ delle materie prime e dalla fantasia delle cuoche. Ma la festa non finisce a tavola: si esce dalla sala e si passa nellĺadiacente bottega, gestita dagli stessi titolari dell'osteria, con i prodotti appena gustati. Far la spesa nello stesso posto in cui si Ŕ mangiato, con prodotti tipici del territorio a prezzo contenuto come era nella tradizione delle vecchie osterie di paese.
*****

Em purt˛ in sa t÷ra du n÷stru lucole antighe e saburie ricete da tradiscion. A n÷stra cŘzeina a propouna sulu i piati tipici da z÷na, saimplici in te e g¨stu e richi da a st˛ria cŘntadeina chi gan indrainta, per forsa id cose influensŔ da a vseina cŘzeina ligure: sal˛me n¨stran, panisa, figasŔte e antipasti c˛di, anl˛ti au tucu o nĺte e vein, mnestron zenaize, tajareini, sima, tripa, stucafisu e saisri. Frumogi da z÷na in c¨ lĺamŔ id GavassÓnna, i dŘsi fati in cÓ in c¨ i veini p¨ bouni de e postu iv deliscierÓn per a saira. E men¨ u pudrÓ vari˛ a secounda de e materie prime e da a fantasie de e c÷ghe. Ma a festa an finisa a t÷ra: us sorta da a sola e us pasa in ta vseina b¨tega, gestia dai stesi padrouni id l'usteria, in cu i pruduti c¨ sŔ apaina gust˛, F˛ a spaisa in tu stes postu in donde u sŔ mangi˛, in cu i pruduti tipici da z÷na a b÷n patu in mŔ clera in ta trdiscion de e vegie usterie id paise.
*****
We brought to the table some of our ancient and tasty traditional recipes. Our kitchen offers local dishes, simple in taste and rich in local, rural history and pleasantly influenced by the nearby cuisine of Liguria: salami, panissa, buns and hot appetizers, agnolotti with sauce or wine, minestrone Genovese, noodles, cima , tripe, stockfish and chickpeas. Cheese of the area accompanied by the honey of Gavazzana, homemade cakes with the best wines of the area all make for a delightful evening.. The menu will vary depending on the availability of raw materials and the imagination of the chefs. But the party does not end at the table: you can leave the tavern and enter the adjacent shop, which is also run by the proprietors of the tavern, and you will find the same products that you just taste. Do the shopping in the same place where you have eaten. We have local products at affordable prices. This was a tradition in old country inns.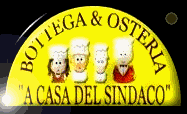 piazza don Carlo Sterpi n░ 3
Gavazzana
tel. 0143477562
cell. 3398621329
cell. 3388409131